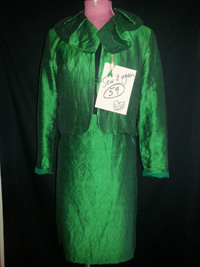 This striking green silk was a short collarless jacket and long skirt, upcycled by cropping skirt and attaching offcut as a double collar.
Upcycling is a way of valuing natural fibres as precious resources and this year I'm demonstrating simple ways this can be achieved by resewing at home with my Sew it Again project.
I'm enjoying reading London journalist and environmentalist Lucy Siegle's book To die for: is fashion wearing out the world – an authoritative and entertaining read.
As Siegle says, silkworms die so their silk cocoons can become fabric (1500 little critters for each metre of silk) – which is why it's doubly worthwhile refashioning silk garments for a second/third life until they're worn out.
On March 30, Siegle will be in Australia as part of the All about Women festival and speaking at Sydney Opera House on the topic Is fashion wearing out the world?  Continue reading →