612 ABC News report by Jessica Hinchliffe on a New Year resolution all sewn up
After a year of upcycling, ABC 612's Tim Cox chats with Jane about Sew it Again
1 Million Women featured Sew it Again in December 2014
Slow Living magazine featured Sew it Again in November 2014
ABC 612's Rebecca Levingston chats with Jane Milburn about Sew it Again and textile waste
Inspiring Read, Yours magazine, October 2014
Making old clothes new again – ABC Canberra's Alex Sloan chats with Jane Milburn

Love Sewing loves … Sew it Again In Issue 3, Love Sewing Australia wrote: Jane Milburn began her 365-day eco-clothing project after learning that global fibre consumption is growing at three times the rate of global population growth. She believes fast fashion and cheap clothing translates into excessive consumption and wastefulness. Jane is a fantastic inspiration to everyone who wants to tackle a global problem in a personal and creative way.
There's a nifty, thrifty idea In The Senior, Heather Grant-Campbell wrote:   Rural women, adept at sewing and mending, have been recruited in a refashion revolution. A Regional Arts Development Fund grant enabled Biloela Arts Council to host a recent weekend upcycling workshop with Jane Milburn, midway through her 365-day thrifty, sustainable and creative eco-clothing challenge. Arts council president Fay Neale, who created a 'history skirt' pieced together from cast-off and unwanted clothing in her wardrobe, described the workshop as an eye-opener. "Most of us have so many clothes in our wardrobes. I'd never thought of reshaping or repurposing clothes," said Fay. "And I hadn't thought of the energy – human and environmental – that has gone into creating textiles and our clothes. We cannot afford not to rethink the use of our resources. "I also found confidence in making a clothing statement of my own and it was good be sewing clothes again."
Sew it Again gets an airing on ABC South Qld ABC Southern Queensland's Belinda Sanders chatted upcycling with Jane ahead of the Jumpers and Jazz festival in July which included a Jumper Shirt workshop held at the beautiful Abbey of the Roses. Part of the experience was Belinda doing a photo bomb in the studio ahead of the interview – with photo courtesy of Peter Gunders.
Biloela begins refashion revolution Town and Country Queensland reported on July 3: Eight productive and enthusiastic women took to the opportunity to be part of an upcycling workshop in Biloela recently and used effort, imagination and skills to refashion unworn clothing to suit their shape and preference. With Australians dumping about 21 million tonnes of rubbish each year, the concept of refashioning existing clothing has appeal to people concerned about textile waste and prepared to be creatively resourceful in the way they dress.
Fashionable fair is green at heart  On May 28, Westside News wrote: A Toowong business that specialises in upcycling natural fibres will be just one of the exhibitors at Brisbane City Council's Green Heart Fair on June 1.  The fair will prove it is possible to dress fashionably and sustainably with a range of trendy eco-style options on show. Jane Milburn said growing numbers of people care about social and environmental issues and are thinking more about where their clothing comes from. "Eco and ethical fashion is also fun, creative and stylish." she said.
Sustainable eco-fashion at Green Heart Fair Jane Milburn told the Brisbane Times/Sydney Morning Herald there are an increasing number of consumers who care about where and how their clothes are made – and interested in ethical and environmental impacts of the textiles they wear. Apart from aiming to reduce the waste of clothing, eco fashion raises awareness of where a piece of clothing comes from and the ethics behind the process of its making. Jane is upcycling existing clothing every day this year through the Sew it Again project to demonstrate mindful and resourceful ways of reusing what we have, rather than always buying new. Clothing that already exists in your wardrobe is the greenest clothing you have.
Upcycled exhibition at Coolah In May, Pandora Gallery at Coolah in central west New South Wales hosted Jane's first Upcycled exhibition developed to transform the way we engage with our clothing. The exhibition displayed 57 upcycled looks created by refashioning existing clothing for the Sew it Again campaign. The Coolah Diary, Mudgee Guardian, ABC Central West and Community Radio covered the exhibition.
Four months up the Sew it Again track After upcycling and blogging every day for the past four months, Jane Milburn spoke about progress with the Sew it Again project to ABC 612 Rebecca Levingston. Jane also talks about Fashion Revolution Day on 24 April 2014, regional workshops and the Green Heart Fair on 1 June. Listen to the interview here
Sew it Again shows power of upcycling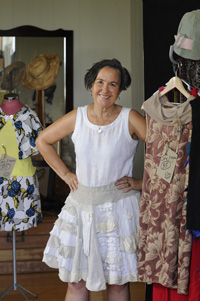 Two month's into the project, Bmag's fashion writer Laura Stead-Churchill said Sew it Again demonstrates the power of upcycling. "Avid sewer and sustainable fashion advocate Jane Milburn's Sew It Again project turns old clothes into new, eco-friendly designs.  What's old is new again in Milburn's wardrobe as she makes her way through garments in a 365 day mission of sustainability.  'What I'm doing with Sew It Again is not just about resewing – it's values-based leadership because leadership is action, not position,' she says. …. read more here
Committing to Sew it Again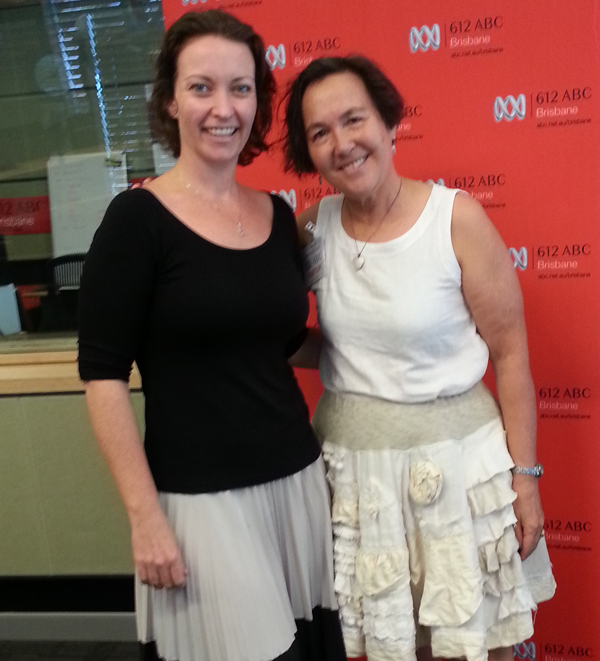 In December 2013, Jane Milburn told 612 ABC Local Radio presenter Rebecca Levingston about her Sew it Again plan to upcycle a garment every day during 2014. Listen here to Rebecca's interview
What's old will be sewn again Jane Milburn is on a mission: to turn an old piece of clothing into a new inspired item every day of 2014. It's a project that she believes can only be described as a labour of love for someone who wants to see the old become new again. Jane's 'up-cycling' project called 'Sew it Again' will see her take on the ambitious task of breathing new life into old clothes as she tries to revive the art of home sewing. Read the ABC online story here
Everything old is new again on Jane's beat In the lead-up to Brisbane's Green Heart Fair in October 2013, Kristian Silva wrote: Jane Milburn has a passion for turning the old into new. Through her social enterprise Textile Beat, she's turned old jumpers into new skirts, altered men's shirts to fit ladies, and re-worked 1980s jackets with shoulder pads to suit modern tastes. Read Kristian's Brisbane Times story. 
Soul Stitching Jane has upcycled clothes all her life and when she wore a refashioned history skirt to a Rural Press Club lunch earlier this year, Fairfax Agricultural Media journalist Alison Francis noticed. by Alison Francis Growing up in a farming family in New Zealand – where clothes were hand-made, food was home-grown and natural resources were at the forefront – gave Jane Milburn a liking for the simple life. The lifestyle encouraged her to develop Textile Beat in 2013, which is about inspiring the upcycling and recycling of natural fibres, fabric and textured objects, and following the heart on a creative journey by working with integrity, creativity and purpose. The two feature items in Jane's range of hand-crafted wares include the History Skirt and Garment Surgery. Garment surgery involves trawling through op-shops for discarded treasures and refashioning them into wearable creations. "I use mostly natural fibres, but it could be shells or beads – anything really that comes from nature," Jane said. "When I started going to op-shops again about two years ago, I realised there was a lot of great stuff out there – silks, wools and linens – all just sitting there discarded. So much amazing material was just going to waste." Having studied agricultural science at The University of Queensland, worked as a rural reporter, been judged 2010 Queensland runner-up in the RIRDC Rural Women's Award, sponsored through the Australian Rural Leadership Program, and representing the Rural Press Club for eight years, Jane is a fervent devotee to rural industry – which is seamlessly stitched in the Textile Beat ethos. "Country people are very authentic and genuine. Rural Queensland has been the focus of my career and I believe it has so much to offer," she said. Inspired by the paddock to plate mantra that has evolved in the food realm, Textile Beat aims to demonstrate the lifecycle of natural fibres. "For me this provides the opportunity of honouring and preserving nature fibres in a novel way, and I think this will also connect urban people with the product of the land." In our fast-paced modern society, Jane believes it is most important that we are living an holistic lifestyle – eating well and exercising – but also nurturing our creative souls. "I was lucky that my mother sewed a lot of our clothes when I was a kid, and so I learned those skills. So many people have never learned how to sew, fix and modify. It is such a forgotten art that truly is so therapeutic." She believes people are lulled into the myth that buying newer, 'better' things will bring happiness. "People have become even more consumerist, insistent on going out and buying new, thinking it will make them feel better," she said. Brisbane's Jane Milburn is joining Smart Farmer with our regular new column Stitch in Time. With her vast experience both sewing and crafting, and deep-seated passion for rural Queensland, in each issue Jane will provide her thoughts on nurturing our creative sides, as well as providing step-by-step instructions to simple projects. About Textile Beat and the Stitch in Time column